Hartworks LLC creates artwork, books, ebooks, websites, videos, and DVDs… generally about alternatives to the mainstream ways of doing things. It's the home-based business of Kelly and Rosana Hart, and our products reflect our diverse interests. We have been offering fast and friendly customer service since our first products came out in 1984. This photo shows us around that time.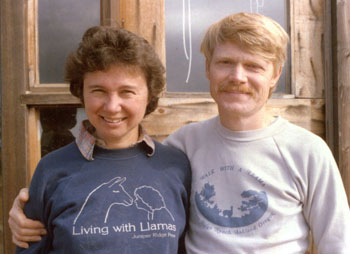 Hartworks.com is our flagship website. Our online presence began right here in 1998. We've expanded a lot since then. See a list of Kelly's websites, mostly on sustainable architecture and natural building. Rosana's interests are eclectic; see a list of her websites. Her trilogy of Curious Librarian Cozy Mysteries begins here.
She's working now on a series of memoirs. For details, see her website Zanahart.com, or click on the images to go to their pages at Amazon:
.
.
.
Sustainable Architecture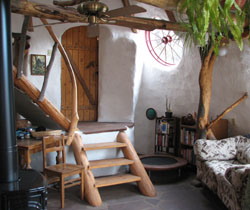 We are happy to be part of the exciting movement to build alternative homes made of sustainable materials. Kelly's program, A Sampler of Alternative Homes: Approaching Sustainable Architecture, is one of the most popular programs he has created. As a result of what we learned while making this program, we built our own home out of earthbags. And then we made a program Building with Bags, about that. If you are interested in this topic, also be sure to take a look at this list of Kelly's websites on the topic and the several books he has written as shown on the sidebar to the right.
Dogs,  Cats, and Llamas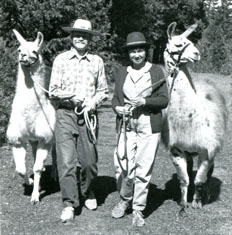 We explore alternative ways of healing animals in our DVDs for dogs and cats, featuring Linda Tellington-Jones:
We also produced a DVD on Telepathic Communication with Animals, featuring Penelope Smith. Stories about a psychic dog and a psychic cat (both our animals) along with a page of tips about communicating telepathically with pets, round out this section.
We raised llamas for some years and made information products about them… here is a page about llama training.
Art, Photography, and Videos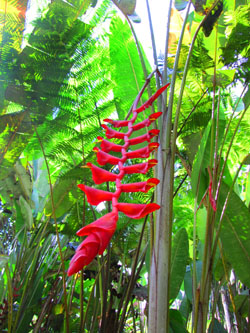 Kelly has delved into wood sculpture, and is enjoying this medium, as it reflects his enduring interest and experience in working with wood. You can see some of his recent work here.
Kelly is still doing  photography, and this page tells you about it and how you can check out his work at Flickr. Kelly's book San Francisco's Psychedelic Sixties is described on its page here. Elemental Hawaiian Splendor is a collaborative book Kelly made with his sister, Molly Hart, and you can find out more about it on the linked page.
For many years Kelly was immersed in film-making as a profession and you can review some of this on this page, as well as his animation.
We've made Youtube videos about a variety of these topics, so here is a page about our dog videos and one about our videos of living in Mexico.
We have a delightful friend who is a fine landscape painter now in her 90s. Kelly created a book of her paintings: The Seasons of Geneva Weiss. Take a look at her art in the book right on that page.