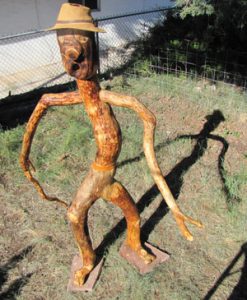 Kelly has been working in a new art form. At the age of 73 he decided to explore the world of sculpture, using a medium that he has worked with all of his life: wood. With an accumulation of tree parts gathered in the local forest, Kelly found inspiration for his first piece of sculpture, titled El Cantor (The Singer in Spanish). It is related to the Ents, or tree people, found in Lord of the Rings. El Cantor stands about 6′ 8″ tall and is stabilized in this standing position with his walking stick connected to the ground.
Rosana asked Kelly for "a big, black dog" for her birthday, obviously a reference to our recently deceased Rottweiler, Lola. Kelly obliged her with the creation of Lala, who is pretty much life-sized. Here she is with Kelly and Nicky.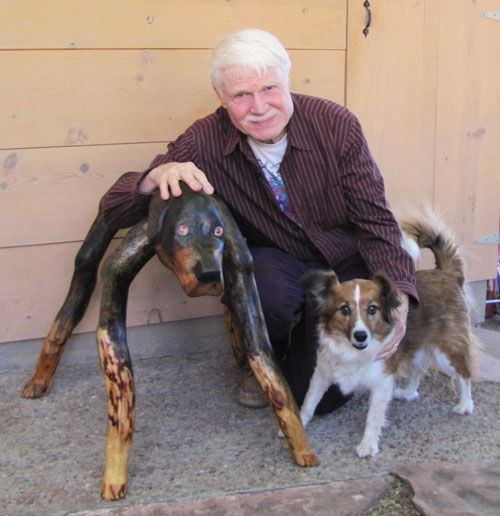 The next challenge was a gift for a dear friend's birthday. Kelly decided to create a sculpture that would represent the concept of Fire in Belly, which is personally relevant to this friend. For Kelly Fire in Belly can be a metaphor for the molten core of Mother Earth or for our Sun as the center of our solar system.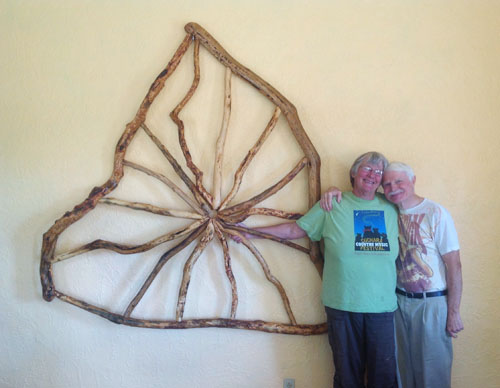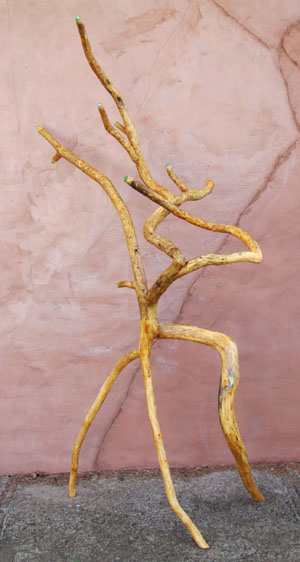 A whimsical piece of sculpture titled Dancing Eyes shows what wonderful forms  Nature can concoct.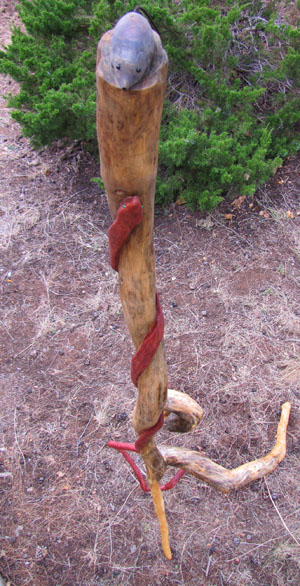 The Serpent was carved from a single tree branch. Will the mouse be able to escape?
A request for a proxy to represent a dear, departed dog resulted in the creation of Star, a Boston Terrier.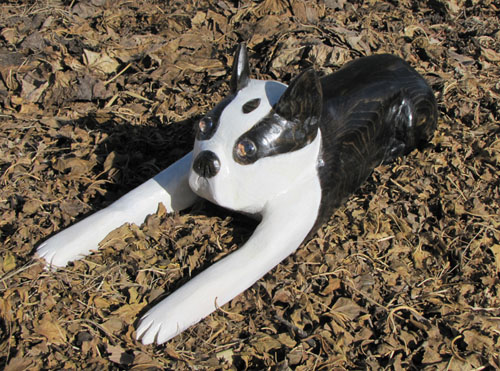 Mitochondrial Eve was carved from native black walnut wood gleaned from the local Gila National Forest with a firewood permit. She is by far the most ambitious of the sculptures that Kelly Hart had yet created, taking several months to complete. She represents what geneticists agree is the mother of all modern humans, having evolved in Africa about 150,000 to 200,000 years ago. All she is wearing is one coat of linseed oil. The stump that supports her is carved from beetle-killed blue stained pine, also gleaned from the local forest.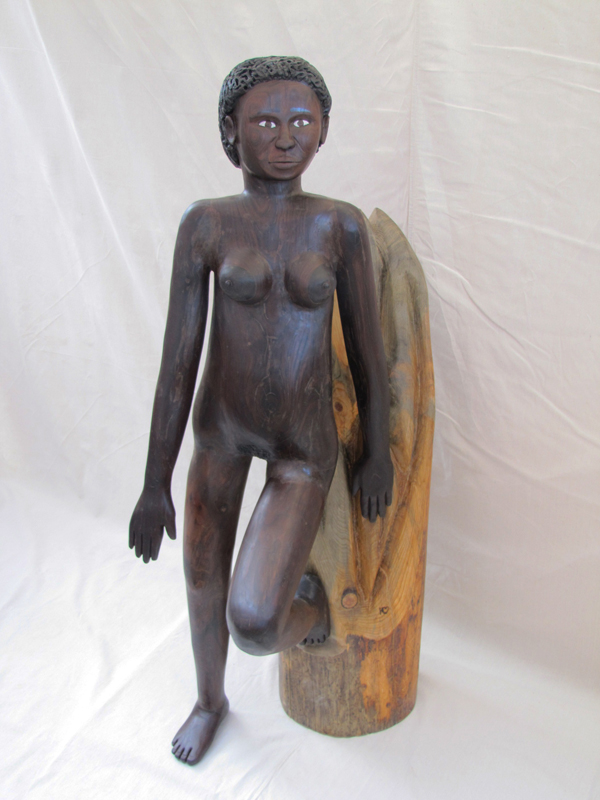 The Elemental Totem was carved from a single log of wild black cherry. It is his conception of a totem pole that represents the four elements: air, water, fire and earth. The earth, fire and water are pretty obvious in the sculpture, but he chose to represent air with a raven perched on the top. Our Earth home feels under siege lately with increasing fire and flood, so this is also an aspect of the underlying art.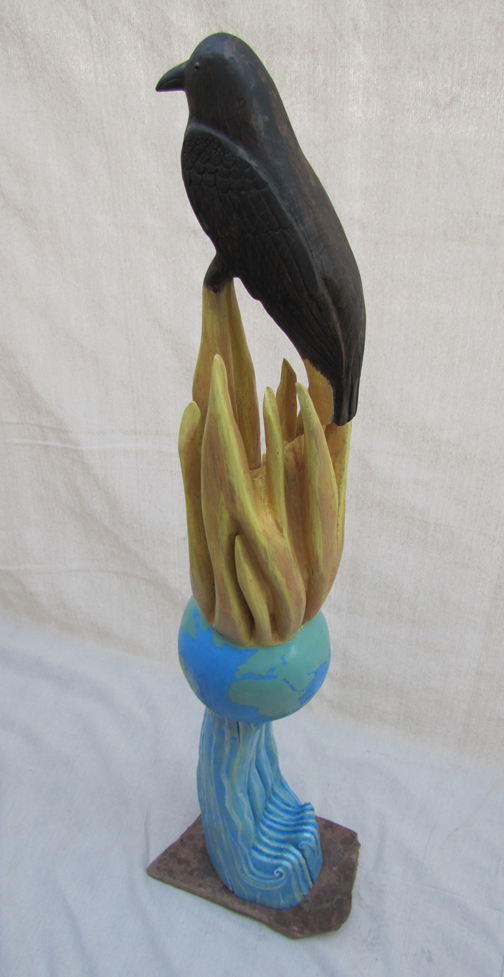 Kelly has an enduring interest in the roots of mankind (he even has a website devoted to this: www.humanpast.net) and Lord Enki is his interpretation of what the Sumerian God, Enki, looked like, based on depictions on ancient clay tablets. The pedestal base is carved in the form of flowing water with fish swimming in it because Enki is was lord of all waterways.
A practical sculpted table with a glass top is called The Gathering Place. It is made from many kinds of wood and symbolically provides a place for the many shades of humanity to gather for pleasure and discussion.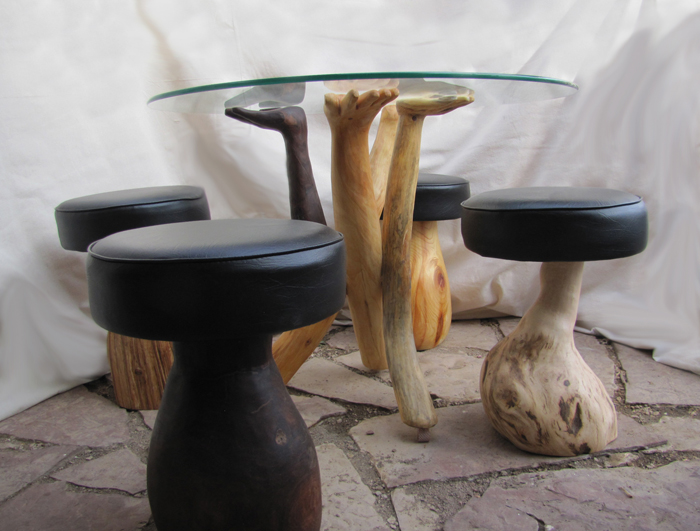 The Light in the Woods also employs many different wood species and is a free-standing wood inlay project made to appear as part of a forest of trees.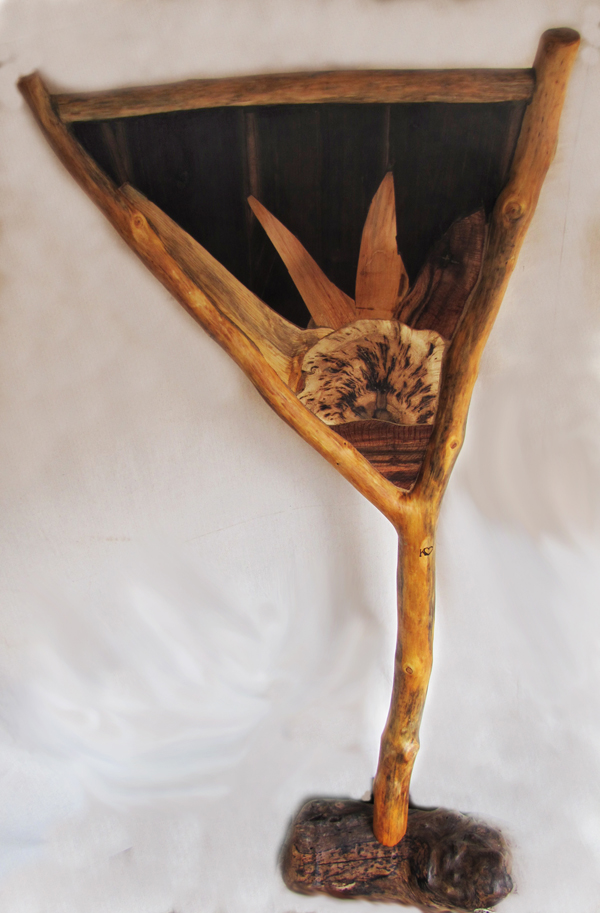 Elwood is a whimsical creature, related to the Ents, like El Cantor. He is intended to be outdoors where his little solar spinning brain will twirl in the light of day.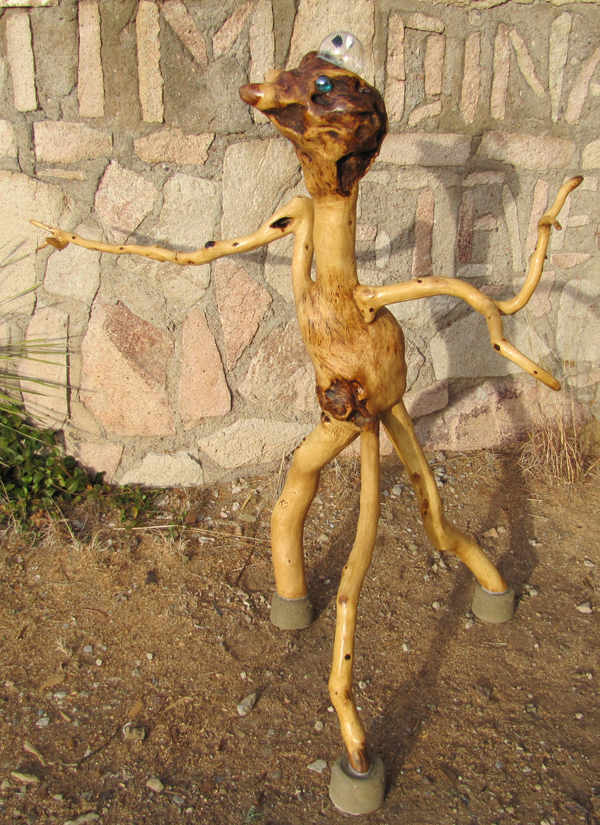 Icosidodecahedron is the most precise of Kelly's sculpture, made from blue-stained, beetle-killed pine, oak and walnut. It stands about 20 inches high.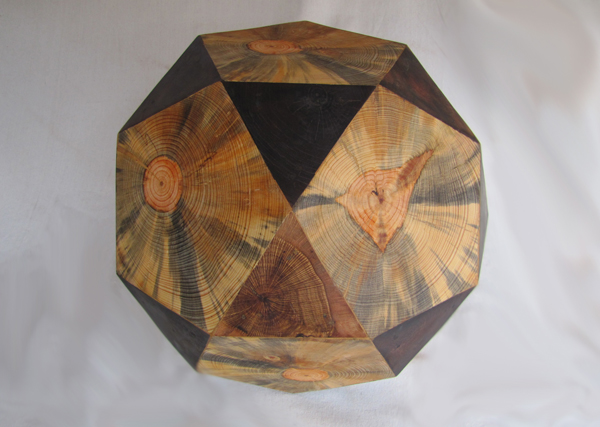 Heartwood is a large 4′ X 4′ wall piece composed of rounds of oak, black cherry and Ponderosa pine and features the unique patterns that can be found in the wood's heart.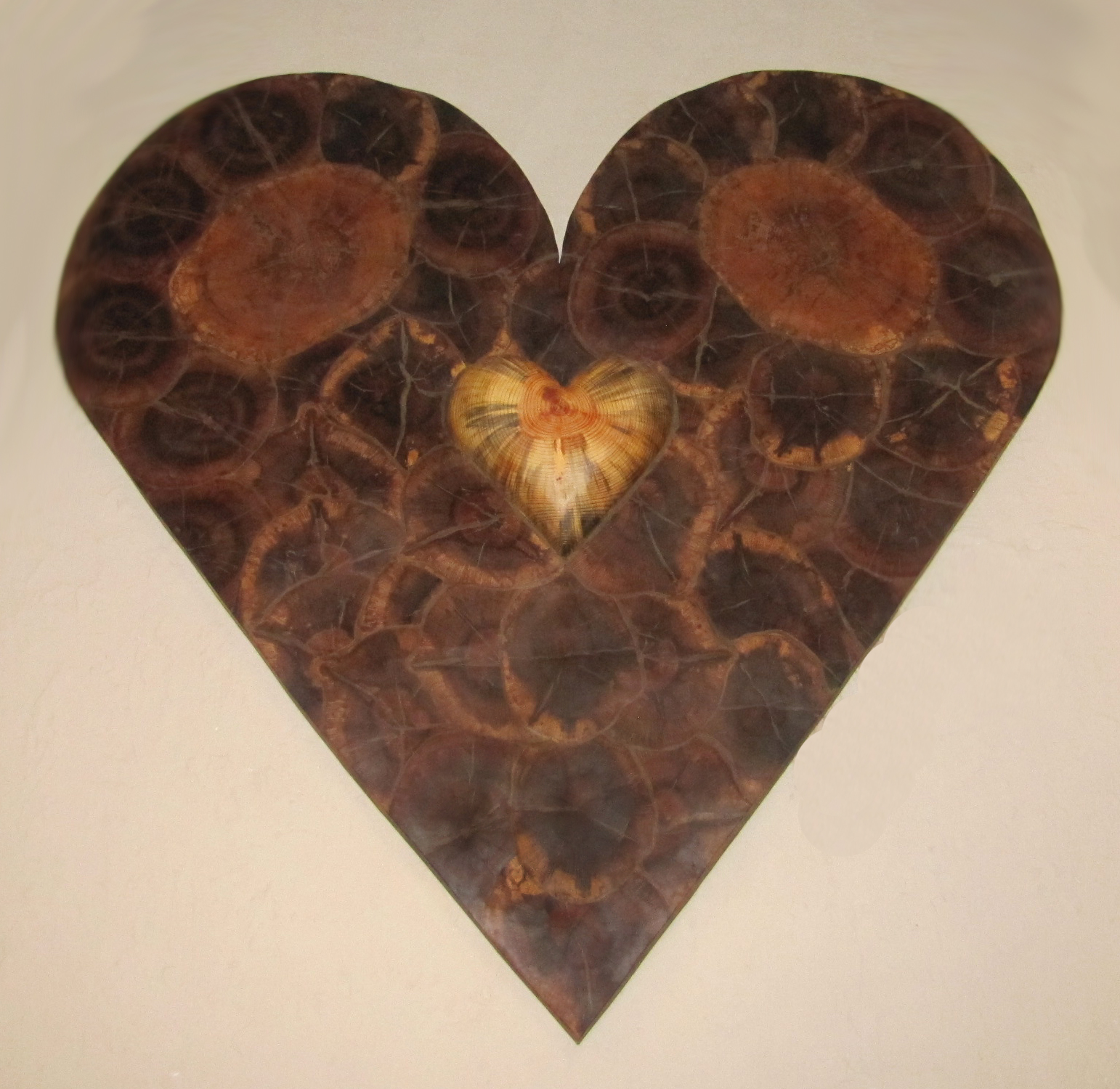 A very organic combination of hollowed out oak burls forms this hanging sculpture called Burly Oak.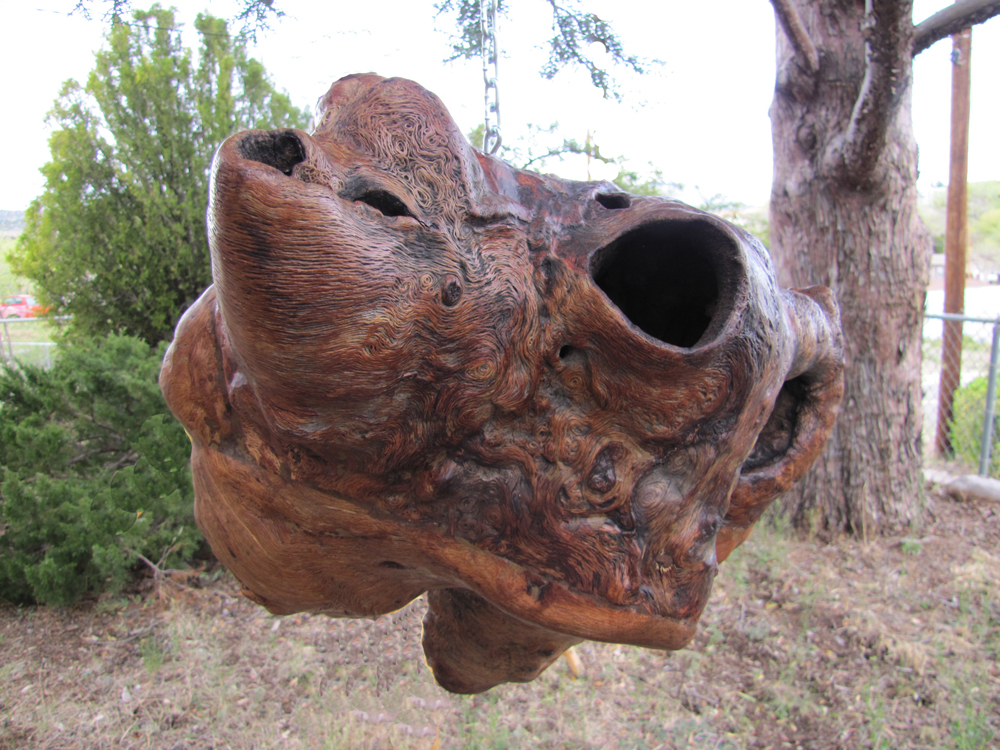 Fernwood is carved from one piece of Aligator Juniper and was an expression that emerged from the wood itself.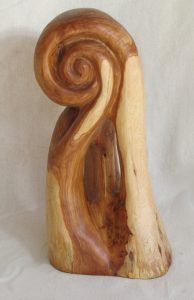 As an expression of humanitie's current status of being responsible for the balance of Earth's species and ecosystems, Kelly created The Tipping Point, carved from Arizona Cyprus and oak burls.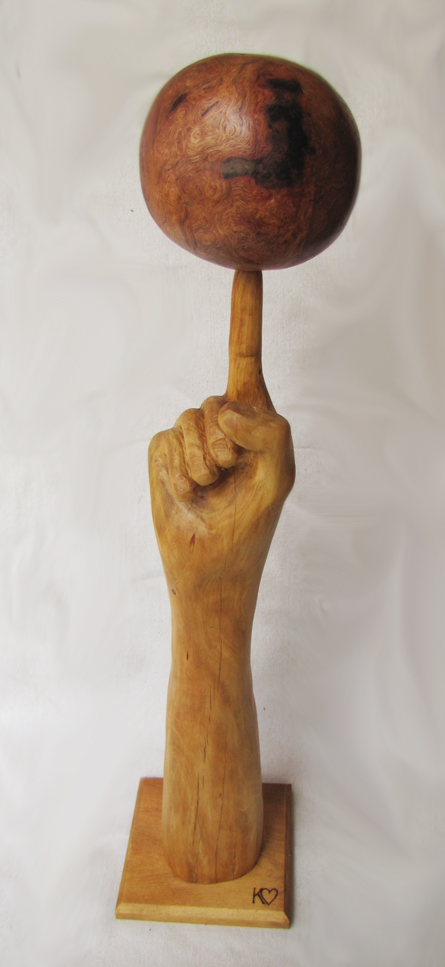 Further experimenting with allowing the wood itself to define what sculpted form it wanted to become, Kelly created La Corona and Shmoo, shown below.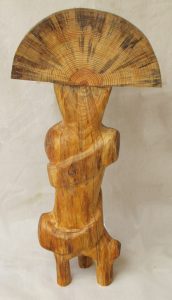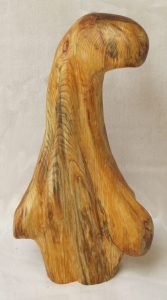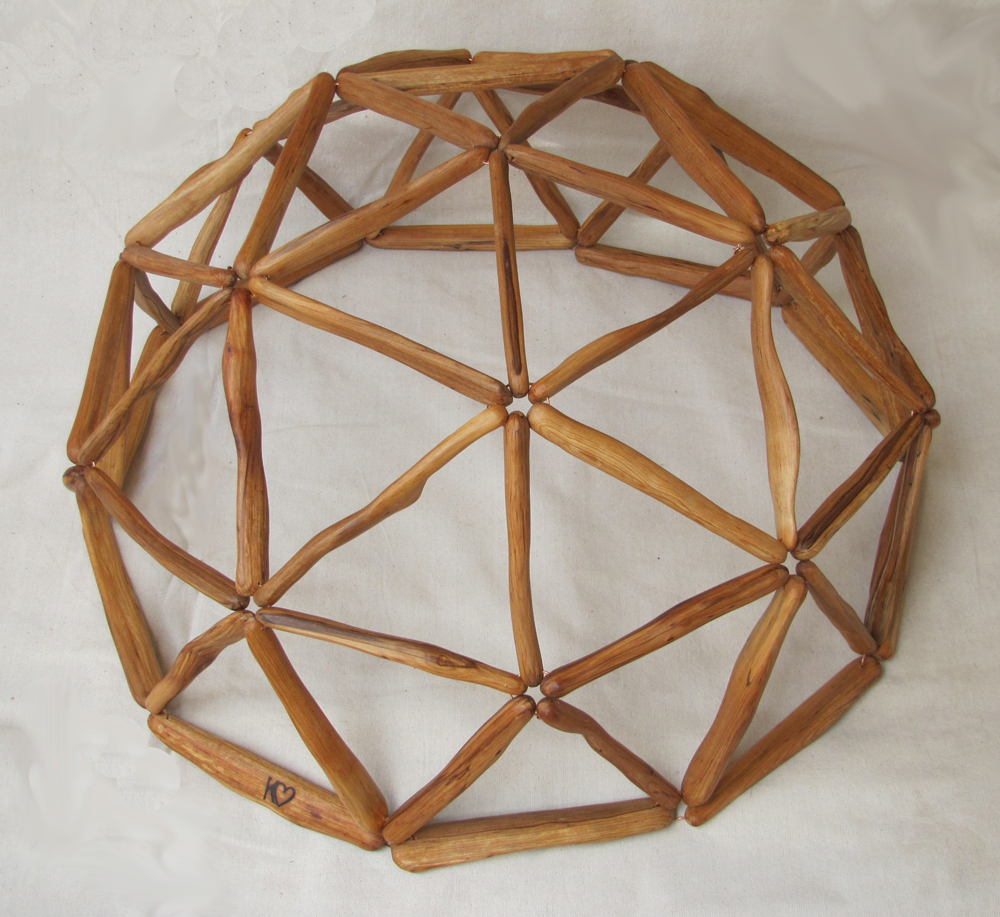 The Wild Cherry Dome is a true geodesic with a rustic flavor carved from wild black cherry wood and connected with copper wire. It measures about two feet wide.
Dancing DNA is Kelly's concept of what an enlarged version of a DNA molecule might look like. It is suspended by a string and is free to rotate in space. The spiral stands are separated by bone beads.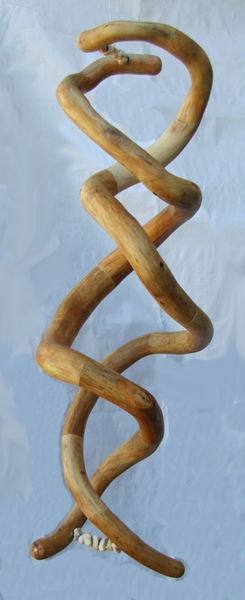 Entwined is a complex kinetic sculpture that stands about six feet high. The tripod base is composed of three pieces of alligator juniper wrapped at the top with copper wire. Balanced on top of this is a freely rotating trunk and limbs of a Russian olive tree. Kelly feels that this represents both masculine and feminine aspects.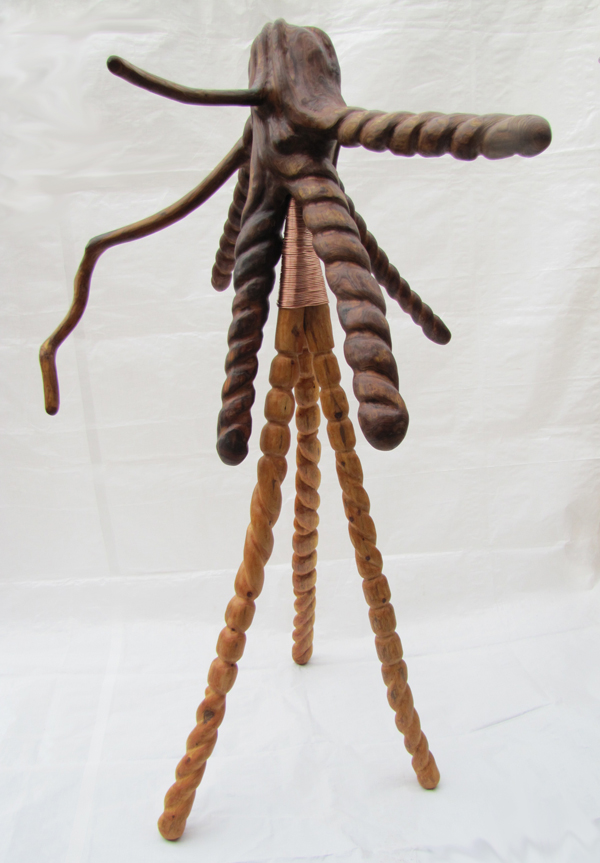 As a response to the pandemic of 2020,  Holding the Space was conceived to show how people from around the world are cooperating to hold the Covid-19 virus at bay.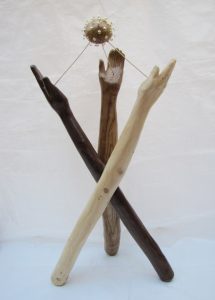 Kelly is currently working on a Tiny Sculpted Home and has been creating wooden inlaid cabinet doors as part pf this project. Those shown below are replicas of crop circle images.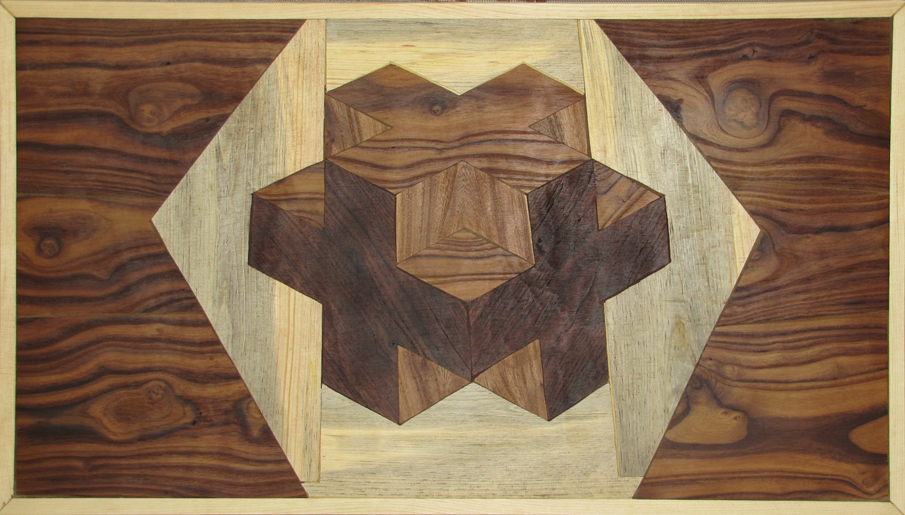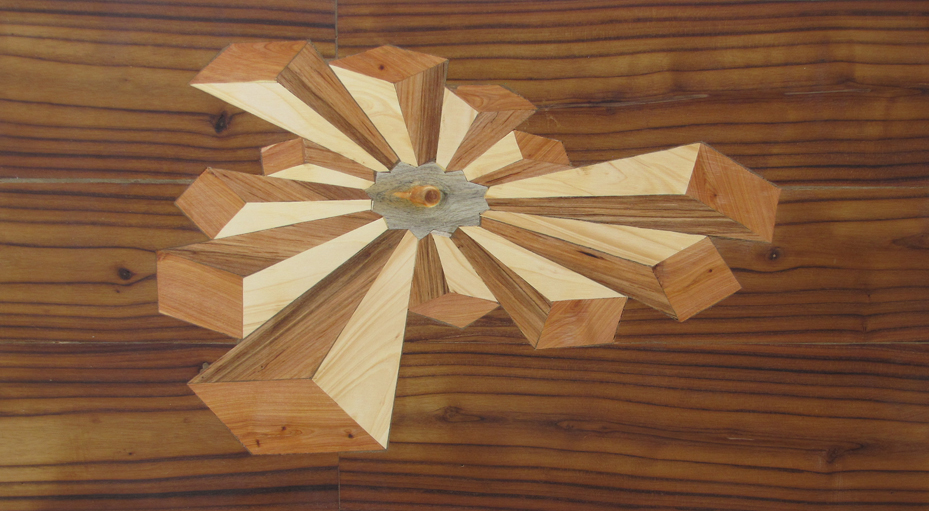 The next door panel is a natural forest scene.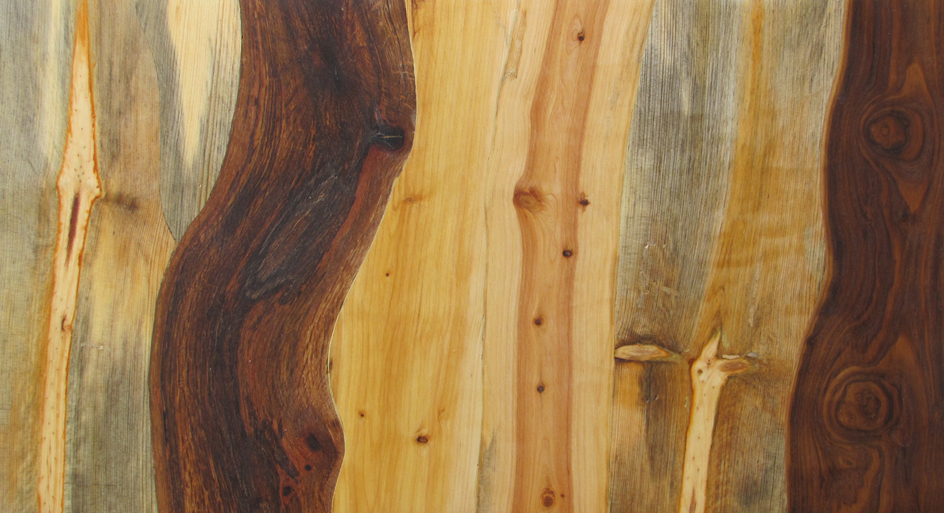 Most of the sculpture shown on this page is on exhibit at A-space Gallery, 110 W 7th St. in Silver City, NM, where it can be purchased. You can contact the gallery owner at 575-538-3333 for more information.