A Sampler of Alternative Homes, DVD
Are you interested in alternative homes but aren't sure what kind—or whether you can actually build one? Thousands of people are doing it — and many never thought they could! The natural building movement is growing! Whether you do the actual construction or hire it out, you CAN live in a house that is kind to the earth, comfortable, and affordable.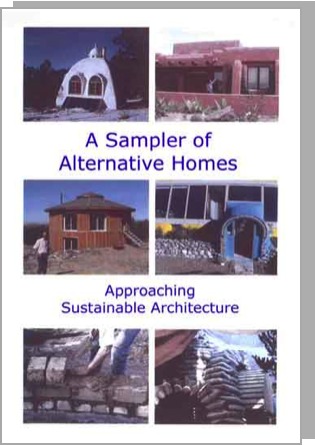 In A Sampler of Alternative Homes: Approaching Sustainable Architecture you will:
Enjoy a look at a fascinating variety of of homes and the creative people who built them…
Discover how passive solar design and environmentally low-impact materials can be used to create comfortable and economical homes…
See the use of traditional materials such as adobe and innovative materials such as papercrete…
See homes made on amazingly minimal budgets and homes more in the midrange of home prices today.
Kelly Hart is a longtime professional video producer and sustainability advocate. He's also my husband. When we decided to build our own green home, we researched homes of adobe, strawbale, cordwood, earthbags, papercrete, recycled containers, earthships, and more.
And we produced this program, based on all that we learned. Whether or not you can hammer a nail, you can learn the essential principles to incorporate into any home if it is to be sustainable.
Here's what you'll see in this information-rich program: It begins with Kelly's introduction to sustainable architecture. He discusses passive solar, thermal mass, and other basic principles. Then we visit a variety of homes, grouped by categories:
Adobe
Sean Sands talks about his house made of adobe blocks. He created the blocks in his yard, using a CinvaRam press and the soil on his land. This house cost under $1000 and took Sean a summer to build.
Dar Al Islam: we'll take a look at a spiritual center made almost entirely out of adobe blocks, in lovely vaults and domes.
Ted Specker piled adobe in a free-form, sculptural fashion to create an artistic earthen abode.
Mario and Pat Bellestri are a husband-and-wife team who operate a rammed-earth construction business in New Mexico. Here we visit several of the houses that they have built, and Mario describes how he does the rammed earth process.
Straw Bale
Tom Luecke and Jeff Rupert represent a construction company specializing in straw bale. They discuss the attributes and special technology of straw bale construction. Shown are two of their houses, a load-bearing straw bale and another that is a combination of load-bearing and non-load-bearing. (Load-bearing means the bales themselves bear the weight of the load, and non-load-bearing means that they don't because something else does.)
Greg Griffen's post and beam straw bale (non-load bearing) home demonstrates his approach to building with straw bales. He discusses the use of natural earthen plaster, and you see a big vat of cactus juice brewing for use in the plaster.
Lance Du Rand designed and directed the construction of an experimental straw and clay catenary arch hermitage, and Ramloti tells us how it feels to live in it.
Earth Sheltering
Nick Lamoureaux shows us his Earthship under construction and discusses its merits. He explains how earthships are made with tires, aluminum cans, and mud plaster. This interview is followed by an artistic tour of a variety of Earthships, accompanied by music.
Richard Kovach employs one of noted cordwood expert Rob Roy's designs for a two-story round earth-sheltered cordwood residence, located in Sequim, Washington.
Ted Specker tells us how he made an earth-covered, dug-out kiva which provides cool habitat in the scorching summer of the southern New Mexico desert.
Allen Newman shows how he makes his innovative thin concrete domes formed with a sectional mold. He chose to do an extremely compact design (for almost no money), but his ideas can also be used on a larger scale.
Papercrete
There's a good chance that you have never heard of papercrete, so this section starts with my explaining what it is and how I came to learn about it. Eric Patterson and Mike McCain more or less simultaneously invented it, so it must be an idea whose time has come!
Eric Patterson calls his invention padobe. He tells how he discovered it and how he used it to make a lovely bedroom addition to his old adobe home. He also has a unique dome as an outbuilding.
Mike McCain, who uses the term fibrous cement, shows how to do it at a two-day workshop. You get some of the highlights.
Sean Sands and Mike McCain collaborate in building some fanciful papercrete dome structures.
Earthbag Building
Artist and philosopher Shirley Tassencourt gives us a tour of her lovely compact dome home and meditation space, made with soil-filled earthbags. She built this with her teenage grandson.
Shirley's neighbor also used earthbags — formed more conventionally into a rectangular shell with a wood-framed roof.Then you see our own construction projects, an outbuilding and the beginning of our home. Both are domes made from recycled rice bags filled with scoria (crushed volcanic rock) and plastered mainly with papercrete.
Hybrids
Joe Michalak used hybrid construction for his family home: it's wood framed and uses wood for siding, while straw bales provide insulation.
Recycled Containers and Vehicles
Here I give a tour of the bus conversion motorhome that Kelly did and we lived in for several years, a former Gray Line Hawaii tour bus about the size of a Greyhound.
Final Thoughts
The two-hour program wraps up with a few final thoughts from Kelly.
You get a lot of information in the program, to help you decide what you want to do and how to do it. I haven't collected "testimonials" from satisfied customers. But many people have told us how useful the program was for them.
You can purchase this DVD for a total of $30 directly from the producer below. Allow at least a week for postal delivery.
A Sampler of Alternative Homes DVD


$30
The legal stuff: You take your own risks in building anything; Hartworks LLC, its owners, and the people in the program are not responsible for what you do. Many of these structures are experimental and were built in regions not requiring the Uniform Building Code or with special categories for experimental houses.